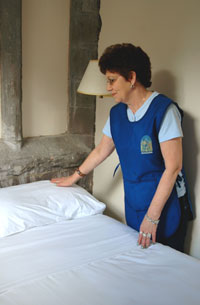 Special offers
At SelClene you can always be sure of competitive prices. Below are our current special offers to make sure you get the best deal possible. Contact us for full details.
Place your order on the web site
To arrange your cleaner you can call us on 01292 443777. Or
submit your enquiry online
, and get a one-off saving of £10!
With one call, you can have your own weekly regular cleaner, usually within a few days of enquiring! If you have previously been with Selclene and would like to re-join we have a great offer. If you sign up on a regular basis between October & December we will offer you a 25% reduction on your agency fee. Remember to quote OFFER25% to get this great deal.
Refer a friend and get 2 months agency fee for free
Recommend our cleaning service to your friend and get 2 months agency fee for free (provided the client stays with us for the minimum 3 month period). Your friend will also get 1 months agency fee for free. Just complete the form below or call us on 01292 443777. We received a call from a previous client who received our welcome back letter gettting 30% off her agency fee when she was with us before she was delighted with the offer Thankyou Mrs H from Alloway.